Jurassic World: Dominion Dominates Fandom Wikis - The Loop
Play Sound
This page is about the original UK version of Veronica Fisher. For the US incarnation, see Veronica Fisher (US).
Veronica Carol "Vee" Fisher is Carol Fisher's daughter and Marty's older sister. She has four unseen brothers named Mitch, Phil, Leo and Barry. She was Fiona Gallagher's best friend before Fiona's departure in Series 2. Veronica lived next door to the Gallaghers with "husband" Kevin Ball - although their marriage was not legal due to Kev still being married to Roxy. They went ahead with a fake wedding anyway, in order to keep the presents and the money Veronica's father had willed for her wedding day.
She stated that she and Kev thought they were rough, until the Gallaghers moved in next door which made them feel like [Prince] Charles and Camilla.
Veronica once worked as a Hospital Cleaner (though she prefers to tell people she was a nurse, arguing they asked her to train as one if corrected), but was fired over the medical supplies she kept stealing, a large amount of which she kept for any situation they were useful in. She was also seen in Series 1 ironing topless in front of a webcam for for the website 'hot baps' to make extra money to pay off a catalogue.
Throughout her over 10 year long relationship with Kev, Veronica struggled to have a child as Kev's sperm were "swimming the wrong way". She stated in Series 3 that Kev hadn't been very interested in having a child until she expressed the wish, after which he become obsessed. In Series 2 the couple tried their hand at fostering. They were placed with a young boy named Eric Tatchell and though they struggled at first, they became very close to him. It was this fact that led to them not fostering again in the future, thinking the heartache when the child is eventually taken to be adopted permanently was not worth it, and also because they'd been so focused on trying to make the arrangement work that they'd missed their relationship.
They tried various IVF treatments, but at the end of Series 3 Veronica received a letter to inform her that her last NHS (National Health Service) funded treatment had failed. She held off telling Kev this as she knew how much he wanted to be a father and hoped to find a way of paying for another treatment before telling him.
Veronica heard from Sheila Jackson about how she had a secret first husband named Sheldon that used to abuse her. Sheila eventually snapped and murdered Sheldon, later burying him in her back garden. She also told Veronica how he was covered in gold jewelry. Seeing the jewelry as her only option to raise money for more IVF, Veronica roped Frank into helping her exhume Sheldon's body to sell his jewelry and split the money. They managed to sedate Sheila and dig Sheldon up but Veronica's hopes were dashed when she found out the jewelry was all fake.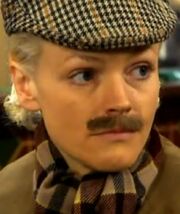 It can be assumed that it was after so many failed options that Kev and Veronica decided to buy a Romanian orphan. However, their hopes were crushed one last time when, after buying the baby, the orphanage was raided by police and the couple were arrested. Veronica's brother Marty was able to escape with the baby and take it back to Chatsworth where he convinced his girlfriend Sue Garland to raise it with him. Marty and a pregnant Sue left Chatsworth with the Romanian baby with the plan of raising them as their own.
At the beginning of Series 4, Kev and Veronica and were seen on the TV news struggling and calling out to each other as they were led up the steps to a courthouse. They were jailed for an unknown amount of time but by Series 8 they had been released. Kev visited the estate on Carl's request and though Veronica didn't come with him, he mentioned that they were still happily married.
Notes
Jokes are often made about Veronica looking like the infamous Moors murderer, Myra Hindley. The joke started when Kev realized her passport photo looked like the most used picture of Hindley, this photo was later used on TV when Veronica and Kev were arrested. Ironically, Maxine Peake would play the role of Myra Hindley in the two part ITV drama See No Evil: The Moors Murders, first released in May 2006.
Picture Gallery