Tina Malone was born on January 30, 1963, in Toxteth, Liverpool. She is a writer, producer, director and an actress known for playing the brash, belligerent, foul-mouthed Mimi Tutton in the UK version of Shameless. She also played the role of Mo McGee in Brookside and a nurse called Bobbie on Victoria Wood's Dinnerladies. She made a reality appearance in Celebrity Big Brother 6 in January 2009.
Early Life
Born to parents Olwyn and Frank on January 30, 1963, in Toxteth, Liverpool, she attended Liverpool Institute High School for Girls and Chidwall College.
Personal Life
She runs her own acting school in Manchester. The school produces plays in local Liverpool theaters such as the Everyman Theatre. The drama school is known as To Be Frank Productions. She is also used to run a similar agency with Dean Sullivan called DSTM. She has stated that she has the obsessive compulsive disorder and bipolar disorder. In August 2009, Tina appeared on BBC Three programme called Britain's Most Embarassing Parents, with her daughter Danielle. From September 8-11, 2009, she directed and starred in Kerry William's play MeeT ThE DeAN's at the Unity Theatre, Liverpool. She currently resides in Manchester with her husband Paul Chase, whom she married on August 29, 2010, and is 19 years younger. Tina appeared on Celebrity Four Weddings in December 2010, along with TV Personalities Debbie McGee, Big Brother 3 contestant Spencer Smith and glamour model Linsey Dawn McKenzie. Tina later went on to win Four Weddings. She also appeared in Scousers in St Helens on October 26, 2010, alongside Margi Clarke, Billy Murray and various others.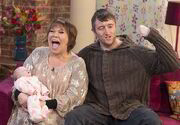 In May 2012 she was declared bankrupt.
On May 16, 2013, Tina and Chase announced that she is pregnant on ITV's This Morning.
Her baby daughter was born on December 15, 2013, named Flame. The name came about whilst Tina was watching TV, a news report was on regarding Flame Brewer, a 9 year old wing-walker who, in August 2013, became the world's youngest formation wing-walker along with her cousin, Rose Powell, also aged 9.
Celebrity Big Brother
On January 2, 2009, Tina entered the Celebrity Big Brother house. She was the seventh person to enter and was immediately picked up on her loudness. On January 16, Tina was the second person to be evicted from the Celebrity Big Brother house.
External links
Community content is available under
CC-BY-SA
unless otherwise noted.