Welcome to the Shameless Wiki!
The wiki about the television shows Shameless (UK) and Shameless (US). We are currently editing over 862 articles, and YOU can help! Here's how.

Frank is the proud, single dad of six smart, industrious, independent kids, who without him would be...perhaps better off. When Frank's not at the bar spending what little money they have, he's passed out on the floor. But the kids have found ways to grow up in spite of him. They may not be like any family you know, and they make no apologies for being exactly who they are.
Oscar-nominated William H. Macy and Emmy Rossum star in the fiercely engaging and fearlessly twisted Showtime series. Season 9 of the series starting to aired in September 9, 2018 and finished in March 10, 2019 with 14 episodes. Season 10 currently in development right now.
David Threlfall starred in the original UK series which aired on Britain's Channel 4 from 2004-2013.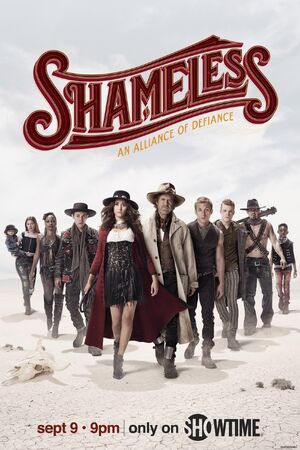 <poll> What is your favorite Shameless US seasons? Season 1. Season 2. Season 3. Season 4. Season 5. Season 6. Season 7. Season 8. Season 9. </poll>