Jurassic World: Dominion Dominates Fandom Wikis - The Loop
Play Sound
This page is about the original UK version of Phillip Gallagher. For US incarnation, see Phillip Gallagher (US).
Phillip "Lip" Gallagher (born 12 June 1988 is the eldest son and second child of Frank and Monica Gallagher. His parents delayed his birth registration for over a year; he discovered this on his 18th (actually 19th) birthday in Series 4. His nickname, according to his father, is due to him being "a bit of a gobshite", better known as "mouthy". He has a young daughter named Katie Maguire whom he conceived at the age of 16. During Series 5, he moved away from the estate to attend university in Nottingham and went on to work as an architect in London. Sometime later, her moved back to Manchester but avoided both his family and the estate until a chance meeting with his father in the episode "Grandaddy Gallagher".
Karen
During the first series, Lip is in a relationship with schoolmate Karen Jackson. He gets Karen to give half-brother Ian fellatio under the table in her house, to see whether Ian is truly homosexual or not. This ends up ripping the Jackson household apart when father Eddie catches her in the act. Lip narrowly escapes with a sprained foot after jumping out of a second-floor window to get away from an enraged Eddie who sees it as a final straw and leaves his family.
Karen ultimately begins having an affair with Lip's own father Frank, losing interest in Lip and eventually dumping him for Frank. Lip is left distraught and heartbroken, but after working out that Frank has been sleeping with her, he savagely beats his father to a pulp in the middle of the street, in front of a shocked crowd. After the dust settles, Frank swallows his pride and delivers a heartfelt apology to his son. Lip urinates over Frank from his bedroom window in response.
Mandy & Katie
During Series 2, Lip starts having sex with Mandy Maguire in order to fool people into thinking Ian is a heterosexual and to lend credence to Mandy and Ian's "relationship". Lip is later framed for robbing Sheila Jackson's friend Lena's house by a dishonest policeman. After his family get him released with no charge, he begins an unlikely casual relationship with Lena, a housewife who appears to be at least 15 years his senior.
Lip eventually begins to lose interest in the sex with Mandy, but things soon change when Mandy announces that she's pregnant with his child and is unable to abort it due to her family's Catholic beliefs. For a time, the Maguires celebrate Ian becoming a father and even push him into getting engaged. Lip decides he cannot allow his brother to live a life built on such lies so announces the truth at the engagement party, earning not only a severe beating from Paddy Maguire and his sons, but also respect from Mandy and Ian. He goes on to suffer more beatings at the hands of Paddy and his sons before finally being allowed to spend time with his daughter.
Throughout Series 3 in his sixth form years, he goes on to casually date and seduce hordes of college girls, but all the while choosing to remain as close as possible to his daughter, Katie. Eventually, he begins to develop feelings for Mandy, a yearning for a family and a desire to not be like his father. He enters a serious relationship with Mandy and becomes slowly and reluctantly ingratiated into the Maguire household.
Lip is not afraid of his father-in-law Paddy like most people are, often standing against him and refusing to be intimidated by him. He also refuses the offer of a job from Paddy in the Maguire's criminal activity, despite being unemployed, preferring to support Katie by his own, honest means. Mandy is shown to admire his tenacity and sometimes even chooses his side over her father's.
He is highly intelligent and previously charged schoolmates money to complete their homework as a way to earn extra money. Lip is also the only Gallagher sibling known to get into higher education, though he may have since been followed in that achievement by his younger brother, Liam, who is also extremely intelligent. Upon completing his A-levels, he is offered a place at the University of Nottingham in the last episode of Series 4, which he is reluctant to accept due to his budding family life with Mandy. After an argument with Mandy about Paddy secretly giving her money to support Katie, he eventually takes up the offer and moves away to Nottingham with the full blessing of his family. However, he does remain in a tentative, "open" relationship with Mandy.
In the first episode of Series 5, he returns to the Chatsworth Estate for the holidays after his first semester, and goes to work at The Jockey with Ian. However, his secret university girlfriend, Alex, follows him to Manchester and causes an explosive, emotional conflict between himself, Alex and Mandy. After a fight between Mandy and Alex spirals into an out-of-control pub riot, a bruised Mandy formally dumps Lip, telling him that while she loves him deeply, she cannot continue to be in a relationship with him. Lip is devastated by her decision and tearfully pleads with Mandy to reconsider, offering to drop out of university and move back to be with her and Katie. However Mandy is adamant that Lip's life is in Nottingham now, and that he no longer belongs in Chatsworth.
Family
Out of all his family members, he is closest to half-brother Ian, who is in the same school year as him (due to Lip's birth being registered a year late) and shares a bedroom with him throughout their childhoods. He is the first person to find out about Ian's homosexuality and never betrays his secret. The brothers come to blows many times over the issue, including when Lip inadvertently lets out how he truly feels about homosexuals during a chat about a transsexual call-centre worker. Ian forces Lip to attend a gay nightclub with him to make up for it, where he strips off on stage and proves a hit with the men.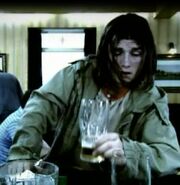 Lip is also close to most of his siblings, especially Fiona and Debbie. He is known for struggling to accept Debbie's maturity, and for always seeing her as his innocent little sister.
In comparison, he is a lot more disparaging of his younger brother Carl, who Lip and Ian both view as stupid and childish. Carl is eventually endeared to Lip and Ian after he loses his virginity and earns their respect, and the three of them become closer.
Lip is generally fond of his youngest brother, Liam, who he was once seen taking swimming (Episode 307). Although, he was often content with letting his other siblings, particularly Debbie, look after him, as his main focuses were school, Mandy and their daughter Katie.
He appears to have a distant relationship with his alcoholic father Frank, where the two of them are constantly disparaging and rarely complementary of each other.
In Series 7, it is revealed that Lip graduated from the University of Nottingham, is now working in London as an architect and is engaged to be married. Mimi Maguire travels to meet him and leaves his daughter Katie permanently in his care after Mandy's tragic death.
Lip didn't return to the Chatsworth Estate until Episode 11.8, but in-between then and his departure, the Virtual Tour of Chatsworth (a feature of Channel 4's Official Shameless Website}, showed that he had sent a letter back to 2 Windsor Gardens, asking for photographs of himself and his siblings as children.
Return
Lip returned in Episode 11.8, along with daughter Katie, now nine years old. Lip had returned to Manchester sometime in the recent past. His marriage, earlier mentioned by Mimi in Episode 710, appeared to have ended, though there was no mention of it. When Frank unexpectedly met him again, it appeared that Lip was forced to move back to Manchester to accept a job as an assistant surveyor with the local council, due to some limited vacancies in his profession down south. Now a single-parent, Lip feels like he's struggling with his daughter, Katie, who appears to be "going through a phase" as a tomboy.
When Lip and Katie met Frank again for the first time in years, it was revealed that Lip explained his father's presence in Katie's life was due to him being kidnapped by the Taliban while serving as a caterer in the armed forces in Afghanistan. Lip stated that even in the ridiculous fiction he created, Frank still sounded like a loser. Frank got Katie and Lip to come over to his house for dinner. Lip reluctantly brought Katie to his childhood home in Chatsworth, which he avoided visiting for years. There, Lip would meet his youngest sister, Stella, for the first time, as she was born nearly a year after he last visited Chatsworth. Reluctant to spend time in his father's company, Lip went to "stretch his legs", but ended up going to the Jockey to meet up with his former girlfriend, Karen. While Katie would bond with Frank and her much younger aunt, Stella.
Staying longer than he initially intended, Lip spent the weekend at his father's home, and got acquainted with Billy Tutton and Aidan Croker, whom he fooled around with in the streets, and would jokingly photograph a young boy, which incited the boy's father to angrily chase Lip, Billy and Aidan through the estate. Lip was later found by the boy's father, whom proceeds to assault Lip, who is rescued by Jamie Maguire. Lip realises that his lack of success after leaving home has much to do with his fear of turning out like Frank, and could be affecting his relationship with his own daughter.
By the end of the episode, Lip and Katie go to the local church, where Katie is due to go through Communion. The Maguires are in attendance with her, with Mimi having provided Mandy's old communion gown. Despite being extended an invitation to attend, Frank does not attend.
Final Episode
Lip returned to the estate again along with his brother Carl and sister Fiona after Monica called them, asking them to attend the funeral of her aborted baby, although Lip and Carl initially believed that one of their brothers has died, and were not happy when they found out the truth. However they did get to meet their new brother, Ben.
To Carl's annoyance, Lip was unable to take the "funeral" of the aborted baby seriously.
Fiona asked Lip to help her take Stella and Ben away from Frank and Monica, and gave him money to distract everyone at the pub while she prepared to leave with the children, pretending to offer to babysit them to cover up her plans. At the Jockey, Lip revealed the truth about Fiona's plans to Carl, which lead to a disagreement and fight between the two brothers, and to Monica and Frank finding out about Fiona's plan.
Kev later met Lip and Carl after Stella and Ben left Kev's flat while he was looking after them for Fiona, with both Lip and Carl looking for the children together.
At the Gallagher house, after Frank had returned with both Stella and Ben, Lip broke up an argument with Fiona and their parents by mentioning the achievements and current activities of the Gallagher children, including Debbie, Liam and Ian, mentioning that they have all turned out fine. He was pleased to see that his father will not leave his family after being offered money by Fiona and smiles as she sees that he has changed.
He was at the Jockey with the rest of the family at the end of the episode dancing and celebrating with everyone else when the final episode concluded.
Notes
Lip would have been in his late twenties as of Series 11.
As Lip was born in 1988, as was indicated in Episode 206, Lip should be twenty-five. He was between 17 and 18 when Katie Gallagher was born. Katie is 9 as of Series 11, which confusingly, indicates that her father may be twenty-six.
In Episode 11.8, Frank accused his eldest son of wetting the bed and believing in the existence of the tooth-fairy until he was 11.
Lip and Carl have both seriously injured family members or close too killing them. In Series 1, Lip finds out Frank had been sleeping with Karen and beats Frank up very badly. He would not of stopped but Steve grabs Lip off him.