Doctor Strange in The Multiverse o Madness - The Loop
Play Sound
This page is about the original UK version of Kevin Ball. For the US incarnation, see Kevin Ball (US).
Kevin Alan "Kev" Ball (born 31 January 1974) was the next-door but-one neighbour of the Gallagher family in the first three series of Shameless, with long term girlfriend Veronica Fisher. Kev worked as a barman in The Jockey throughout his time in the series, until he and Veronica were arrested at the beginning of Series 4 for trying to buy a baby from a Romanian orphanage.
Veronica
From the beginning of the show, he is in a long-term relationship with Veronica Fisher, who lives with him. After lying to a drunk party girl that he's about to get married, the whole pub (including Veronica's mother Carol) finds out and throws a party for him, essentially forcing him into getting married. However, he is legally married to Roxy Ball, a beautiful-yet-unhinged alcoholic who has served time in jail, and cannot go through with the marriage to Veronica. Veronica throws a fake wedding anyway in order to get her hands on a dowry her deceased father left for her.
Roxy returns in Series 3 at the funeral of his mother. Veronica, wracked with jealousy, starts a vicious fight with her in The Jockey and gets kicked out. Kev ends up sleeping in the same bed as Roxy at his mother's flat, but resists the temptation to have sex.
It is revealed that Kev is secretly illiterate and though he attempts to change this by attending adult classes, his exceptionally flirtatious teacher puts him off continuing the course. For the rest of his time on the estate he is forced to rely on other people, usually his work mate Karen, to read things.
It is revealed in Episode 37 that Kev has a strong phobia of both flying and airplanes. He and Veronica had booked a holiday to Spain and when Kev admitted his fear, Veronica took him out for a picnic to a secluded spot under the pretense of them having outdoor sex. She clambered on top of him and attempted to hold him down as an airplane flew close above them after just taking off, Kev went into a wild panic in which he wet himself. Though Veronica told him she was only thinking of him, trying to make him face his fears her true intentions were revealed when she admitted they would lose their £100 deposit on the holiday if they cancelled. Kev's phobia was so strong that Veronica admitted defeat and the couple went on holiday in a relatives Caravan instead.
Kev and Veronica appeared briefly in the first episode of the fourth series. They were shown being brought into a Romanian courthouse after they had been arrested attempting to buy an orphan. This marked their final appearance in the series to date, before Kev's brief return in Series 8.
In keeping with the shows setting, Kev is a fan of Manchester City F.C. He is infertile, something which him and Veronica struggle against throughout their relationship.
Kev is friends with Frank Gallagher during his time in the series, he helps Frank find where Monica is living in Series 1 and then he and Frank try to escape them in Kev's car, fleeing to Franks and Sheila's. In Series 8, Kev returns to clear Frank's name from an assault inquiry, revealing him and Frank once did decorating work together providing more evidence that they were good friends. Kev often helps Frank out when he finds himself in compromising situations, such as keeping secrets for him or hiding him under the bar in the Jockey.
Kev develops a friendship with Fiona's new boyfriend Steve McBride in series 1, and refers to him as "Posh lad" initially, eventually he accepts Steve but if the two have a disagreement he returns to viewing him as an outsider. In Series 2, Steve trys to help Kev with his reading and writing, but often gets frustrated when Kev makes childish mistakes.
Children and Departure
Part of Roxy's attempt to win Kev back when she visited him Series 3 was to tell him that he wasn't infertile, or at least not when they were together, as she had birthed him a son but was forced to put him up for adoption. This was revealed to be a lie but it showed Kev's desperation to have a child of his own. Veronica mentioned in Series 3 that Kev hadn't been particularly interested in having children until she had convinced him. The couple briefly tried fostering and though it didn't start off well, Kev formed a close bond with the child, Eric Tatchell.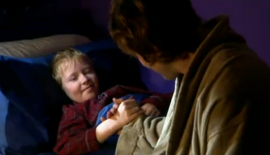 After getting to so close to Eric and then having him taken away to be adopted permanently, it is possible Kev and Veronica decided against further placements due to the heartache. They continued to try for a child of their own, Veronica telling her best friend Fiona Gallagher that the problem was with Kev's sperm. They tried various IVF (In vitro fertilisation) treatments but at the end of Series 3 Veronica received a letter to inform her that her last NHS (National Health Service) paid treatment had been a failure, Veronica held off telling Kev while she tried to raise money to pay for more IVF themselves. When this didn't pan out the couple must have decided to attempt to buy a Romanian Orphanage.
Though the orphanage was raided by Police just after the purchase and the couple arrested, Veronica's brother Marty was able to escape with the baby. He managed to get the baby back to Chatsworth where he convinced his pregnant girlfriend Sue Garland to raise it with him. Sue and Marty then left Chatsworth to do just that.
Kev and Veronica are then imprisoned for an indetermined amount of time, meanwhile, on the Chatsworth, the Maguire family moves into their former home soon after hearing the news, in an attempt to get closer to daughter Mandy, throwing out all of Kev and Veronica's belongings, much to the annoyance of Carol, Veronica's mother, who pretends to care that it is her daughters house in order to claim Veronica's clothes and possessions.
Return
Kev returned to the estate briefly in Series 8 for the shows 100th Episode, at the request of Carl. Frank was accused of mugging and viciously beating a local woman and when his DNA showed up in her house, things looked bad. However, Carl remembered Frank and Kev doing some building work in the woman's house years previous. Kev returned and was able to help prove Frank's innocence. He mentioned that he was still happily married to Veronica though he did come close to cheating on her with a police woman on the estate. Carl drove Kev back to Nottingham, where he had moved after leaving prison, at the end of the episode.
Final episode
Elliot Tittensor posted a comment on his Twitter, on the 8/1/13 (8 January 2013), saying that he may be returning to Chatsworth for the final series to reprise his role of Carl, along with Kevin's actor Dean Lennox Kelly. An article on Digital Spy confirms their return, along with Lip Gallagher, Fiona Gallagher, Monica Gallagher, and Yvonne Karib.
In the final episode, Fiona Gallagher arives at Kev's flat with Stella Gallagher and Ben Gallagher, asking him to look after them while she goes to speak to Steve about taking the children to live with them. Kev is reluctant but does look after them.  However, Stella leaves the flat with Ben, and Kev returns to the Chatsworth estate to help Lip and Carl look for them. Kev then attempts to distract Monica from finding out that the children are missing, but she manages to figure it out anyway. He is later at the Gallagher house with Monica, and tries to break up the confrontation between Fiona and Monica, just before Frank turns up with Stella and Ben.  He is then at the Jockey with everyone else dancing at the end of the episode.
Notes
Many viewers mistakenly thought "Kev" to be short for "Kelvin" due to a repeated error made by over worked Social Worker, Marissa Platting in Episode 2 of Series 2.
There is a point of confusion when it comes to Kev's father. Kev stated on various occasions that his father died a long time ago but in Episode 14 of Series 7 Homer Ball visits the estate. Homer is the father of Kev's sister Kelly and shares his last name. It is likely this is either a mistake on the part of the writers or means Homer is Kev's step father, making Kelly and

Tonya

his half sisters. As Kelly has never been referred to as his step sister, in can be assumed an error has been made.
Although Kev is depicted as being illiterate, in a scene in Episode 7 or Series 1, Kev reads a screencap on Ceefax reporting a death that is thought to be Frank Gallagher's.
After living in Nottingham for years after departing from the series, Kev Ball (and presumably Veronica as well) appear to be living at or near Chatsworth in Episode 1114.