Cobra Kai Season 4 - The Loop
Play Sound
Anne Emily Bergl was born on April 25, 1975, in Milton Keynes, England. She is an actress best known for her roles as Rachel Lang on the film The Rage: Carrie 2, Annie O'Donnell on the ABC television show Men in Trees, Beth Young on Desperate Housewives, and Tammy Bryant on the TNT drama series Southland. She also performs as a cabaret singer.
Early Life
Emily was born in Milton Keynes, England, to an Irish mother and an English architect father. She lacks an English accent, because she moved to Glenview, Illinois, with her family when she was a child and attended Glenbrook South High School and Grinnell College, where she was the lead in several school productions. She graduated Phi Beta Kappa in 1997 with a BA in English and Theatre. During her college years, she spent a semester studying with the National Theater Institute at the Eugene O'Neill Theater Center. She has a brother.
Career
Acting
Emily's big break came with the lead role of Rachel Lang in the 1999 film, The Rage: Carrie 2, the sequel to the 1976 supernatural thriller Carrie. Much of her acting also takes place on television. Emily has appeared in episodes of the TV shows Gilmore Girls, CSI: Miami, Medium, Law & Order: Criminal Intent, NYPD Blue, Star Trek: Enterprise, and as Sammi on Shameless. She also appeared in the psychological thriller Chasing Sleep, opposite star Jeff Daniels. Emily had a major role in the Steven Spielberg 2002 miniseries Taken.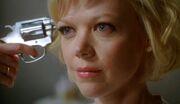 Emily had a significant co-starring role in the ABC series Men in Trees as Annie, an enthusiastic fan of the series' main character, relationship expert Marin Frist. Annie travels to every event Marin appears at, and ends up in Elmo, Alaska, with Marin. Annie stays in Elmo, when she meets Patrick Bachelor, a local hotel desk clerk and radio DJ she knew through online chats about Marin's book. 
Recently, Emily played in Becky Shaw at Second Stage Theatre in New York in the beginning of 2009. As of the season's second episode Emily played Paul Young's new wife, Beth, in the seventh season of Desperate Housewives.
Cabaret Singing
Since 2010, Emily has performed a cabaret show called Kidding on the Square, which had run in the summer of 2010 in Los Angeles and New York City, then later in Chicago. In September 2011, with the show in New York, the New York Times wrote of her performance.
"Emily Bergl, an incandescent kewpie doll with a bright Betty Boop-inflected chirp, a defiant flounce and a sharp comedic edge, took the Oak Room of the Algonquin Hotel by storm on Tuesday evening. Her sensational show, Kidding on the Square may have played elsewhere, but arriving at the staid Oak Room it felt like a gust of fresh air that could knock you off your feet."
A later article elaborated on her cabaret acts.