Jurassic World: Dominion Dominates Fandom Wikis - The Loop
Play Sound
Clayton Gallagher is the brother of Frank, Jerry, and Wyatt Gallagher. He is also likely the biological father of Ian Gallagher.
History
Season 1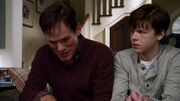 He lived in a large house with his wife, away from the south side.
He is first mentioned indirectly in Nana Gallagher Had an Affair, where Fiona mentions to her siblings their father has three brothers.
In Daddyz Girl, Ian and Lip visit Clayton and his wife Lucy claiming they were working on family tree projects at school. Clayton shows pictures of him and Frank as alter boys, and says that they had a falling out, and that it was his fault but he never did anything about it. Lucy seems uncomfortable and takes Clayton out of the room to help with pop. Lip and Ian hear her saying that she doesn't want them in the house and that the latter looked like their son Jacob. Clayton tells his wife that he never slept with Ian's mother, obviously knowing the truth as his wife isn't convinced. Lip says Ian looks just like him, and that he might as well take the opportunity and share the wealth with his obvious father. Ian gets upset and they leave the house. Outside, Ian tells Lip that Fiona is his sister, just like Lip is his brother, and he is happy living with them despite all their troubles with Frank who he still regards as his father. Ian also tells him not to shift his issues on him, before he goes to the car with Clayton watching from his front door, having overheard the talk but does not protest Ian's choice. He bids his nephews goodbye as they leave.
Season 2
After Peggy's death in Parenthood, Clayton was sent money by her along with Wyatt and Jerry.
During Just Like the Pilgrims Intended, Frank decides to visit him along with Monica to get money after their mother sent him some following her death. Clayton is not pleased to see his brother and when he tries to guilt him by mentioning him taking care of their ill mother before her death. Clayton justifies it by telling him, he did not know she was released. Frank asks for some of the money to make amends. However, Clayton had already used the money to pay his mortgage and orders him out. Clayton also resists Monica's advances and watches as they leave.
Appearances
Notes