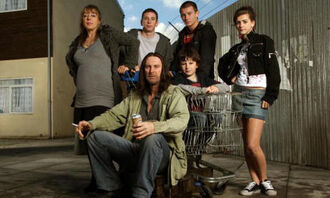 This Category page is for all members of the Gallagher Family, whether by blood or marriage.
The Gallagher family are the main focus of Shameless. A large, disfunctional family from the Chatsworth Estate, near Manchester. The main members of the family are the children of Monica and Frank Gallagher, both lazy and neglectful parents. During their marriage they had daughters Fiona, Debbie and Stella along with sons Lip, Carl, Liam and Ian who it was later revealed was the son of Monica but with her old boss. Ian was raised as a full Gallagher however, and though Frank originally had a hard time with accepting the truth, he came to think of Ian as his son no matter what.
Frank also fathered twins Delia and Nigel with his girlfriend Sheila Jackson. However when the twins were still very young, Sheila left Frank and took them away with her. Nothing has been heard of them since.
Also part of the family is Katie Maguire, daughter of Lip and Mandy Maguire, who after Mandy's death was taken to live in London with Lip. The Chatsworth Estate has also briefly seen Frank's father Neville, only seen on one occasion due to the hate filled relationship they share.
The family are of Irish descent and are sometimes referred to by local residents as "pikeys", though this is likely just a reference to the family's low-income status, rather than any suggestion of Irish Traveller heritage.
The Gallaghers seem to have Catholic roots, indicated by Frank's earlier religious beliefs and Liam going to an RC primary school. The family, for the most part however, are far from devout. Frank has been banned from the local church, due to a past spate of thefts and the family have not attended church services since 1994, as was revealed by Fiona when she was trying to persuade a priest to allow her and Steve to marry at his church. In Series 3, Debbie and Liam were revealed to be Atheists. Carl has shown signs of piety however, when he was once caught praying by Debbie (the reason being that Carl wanted sex, a fact that greatly annoyed Debbie).
At the start of the series, with Monica AWOL and Frank spending his dole-money on drinks at The Jockey, Fiona, Lip and Ian were the three bread-winners of the family. Fiona was a teaching assistant at a local nursery, Lip would charge fellow students from his school to do their homework, plus fees from Chatsworth residents who he'd help with making false insurance claims, and Ian was a shop-assistant at the Karib's Cash and Carry. Fiona was the surrogate mother of the her brothers and sisters ib Series 1-2 but from 3-6 Debbie got that role.
Due in large part to the negligence of both parents, the Gallagher children tend to grow up faster than others kids their age. And at least three of the Gallagher children also have high IQ's. Lip is the first member of his family to enter university and used to help neighbours and fellow students with insurance claims and homework. Debbie, taking after her sister Fiona, would run the Gallager household and take care of the household budget. And at age ten, Liam was offered a scholarship and has demonstrated excellent math skills.
Between Series 2-9, the Gallagher family's presence in Chatsworth had gradually shrunk until only Frank and his youngest daughter Stella (born in Episode 516) remained on the estate as everyone else had grown up and moved on.
Trending pages
All items (16)