Jurassic World: Dominion Dominates Fandom Wikis - The Loop
Play Sound
Caleb was the former boyfriend of Ian.
History
Season 6
Ian met Caleb at the local fire station, in Going Once, Going Twice, while seeking to thank the fireman who rescued him in the previous episode.
Attracted to him, Ian flirts with him throughout Refugees, however, when he makes a move on him, Caleb explains his want for a date and relationship instead of the sexual encounter Ian proposed. Ian, taken aback by the normality of this, explains his past relationships' abnormality, however agrees to go on a date with Caleb.
In Pimp's Paradise], Caleb later felt close enough to let Ian be his date to his cousin's wedding. While there, it is revealed that Caleb's father is a pastor and homophobic. Caleb brings Ian to bash on his father but this upsets Ian until Caleb apologizes and they unite on continuing the show. Afterwards they officially become a couple.
In Be a Good Boy. Come For Grandma., Caleb introduces Ian to his old friends and ex-partners. During the night, both decide to reveal a "skeleton in their closet", hoping to clear the air. Caleb admitted to being HIV positive and Ian to being bipolar. Both were surprised at the other's honesty. Caleb reveals he is HIV positive due to a guy who lied to him in college, but they use condoms as Caleb's doctor said he cannot infect anyone. Caleb soon requests Ian should get tested after he learns that he doesn't use condoms. Ian does so, and goes to the doctor with Caleb, and his results are negative. The nurse also asked Ian how many sexual partners he had had, which led to Caleb leaving the room because Ian did not want to reveal that to Caleb. Later Ian tells Caleb that he truly did not know how many because he used to dance at a strip club "and worked the back of the house as much as the front". Caleb seems to be okay with Ian's past.
The relationship continues with Caleb encouraging Ian to be a paramedic after his condition was revealed and it was successful.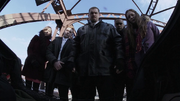 Caleb later joined the Gallaghers and friends in throwing Ian's father Frank off a bridge into a river, after he ruined the ceremony but the latter survived and was left comatose for a month.
Season 7
In Hiraeth, a month has passed with Caleb and Ian still being in a relationship, but Ian is warned that Caleb's attention could stray. This was confirmed as Caleb is revealed to have cheated on Ian with a woman, proving his "bisexuality".
During Swipe, Fuck, Leave, Ian confronts Caleb on this issue, but he does not think it is cheating, since he is seeing an old high school friend. Later on, Ian meets him again and reveals he tried sleeping with a woman but the choice didn't work for him, and he calls Caleb bisexual. Caleb takes it from Ian's anger that his relationship with Ian is over.
Notes
Caleb was Ian's second official boyfriend, following Mickey who confirmed their official status in 5x6.[1]
Caleb's last appearance is also in 7x2.[4]
Caleb and Frank never met again and Frank didn't get revenge on him for his actions.
References