Jurassic World: Dominion Dominates Fandom Wikis - The Loop
Play Sound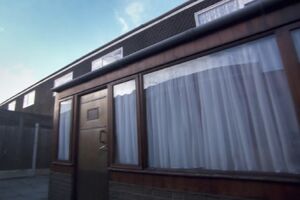 6 Windsor Gardens was originally Kevin Ball and Veronica Fisher's house. It has since become the homestead of the Chatsworth Estate's crime family, the Maguires.
History
2005: Kelly Ball, Kev's sister, is locked in the bathroom by Veronica to go cold turkey from heroin.
2007: When Kev and Veronica are sent to jail for buying a baby from in Romania, the council house the Maguire family there.
2008: Mandy Maguire moves into the Gallagher house with Katie to be with Lip.
2009: Paddy Maguire goes cold turkey in the bedroom.
2009: Mimi Maguire moves out and Kelly Ball moves in
2010: Paddy and Kelly have sex on the sofa.
2010: Paddy Maguire moves out.
2011: Mimi, along with her newborn daughter move back in with her two sons Shane and Micky.
2011: Kelly and Shane Maguire stage a fake kidnapping.
2011: Micky moves out after arguments over the boiler and moves into Marty Fisher's squat.
2011: Billy Tutton, Cilla's teenage father and Mimi's new husband, moves into the house.
2012: Micky returns to the house when Kelly demands he leave her and Marty's flat and Project New-Start furthers this by evicting all residents of the squat.
2012: Ruby Hepburn, Mimi's niece, moves into the house.
2012: Micky Maguire moves out of the house when he adopts Jasmine, the daughter of a dead recovering drug addict.
2012: Ruby falls out of the bedroom window, falling to her death.
Residents
Notes
The house's full address is: 6 Windsor Gardens, Chatsworth Estate, Manchester, M62 8KM.
It is possible to take a virtual tour of 4 Windsor Gardens and various other locations on the Chatsworth Estate at the Official Shameless Website.
Pictures