Jurassic World: Dominion Dominates Fandom Wikis - The Loop
Play Sound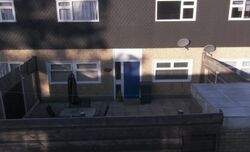 4 Windsor Gardens is the house situated next door to the Gallagher and Maguire house.
History
Prior 2004: the resident of the house passed away and left the house abandoned.
2004: Steve McBride buys the house for him and Fiona Gallagher. Steve McBride and Kevin Ball interfere with the boiler unit inside the house and it burns down for an insurance payment to get the house renovated.
2005: Steve McBride and Fiona Gallagher, then later Marty and Carol Fisher move in.
2005: Steve moves out and Fiona's new boyfriend Craig Garland moves in.
2006: Sue Garland, Marty's new girlfriend moves in.
2007: Carol, Marty and Sue move out and the house is sold to Yvonne Karib.
2008: Stan Waterman moves in.
2010: Yvonne, Stan and Meena leave Chatsworth and Chesney remains alone in the house.
2010: Bonehead rapes Sammy at Chesney's party.
2011: The Powell family move into the house.
2013: The house becomes a squat, with Frank spending time there with Derilee and Sherilee, as well as being the temporary resdence of Marty Fisher and Kelly Ball before they depart from Chatsworth in Episode 114.
2013: The Blanco family, consisting of Kassi, Esther, Tam, Thalia and Saul, move in with the help of Jamie after Kassi gets into trouble with the authorities.
2013: Kassi Blanco no longer living at the house after he is arrested and sent to prison.
Residents
Notes
The houses full address is: 4 Windsor Gardens, Chatsworth Estate, Manchester, M62 8KM.